Community Growth Fund (CGF) understands the vital need for unique funding solutions in the residential real estate and transportation realms, as well as the hands-on support to make sure our clients succeed. From application, to origination, to project completion, CGF wants to work with you or your organization every step of the way.
The Community Growth Fund was founded with the goal of increasing access to responsive capital that is needed to build strong communities. CGF believes that people and organizations struggling to get financing through traditional means should not be left behind. We believe that for every modern problem, there is a modern solution, and we are committed to providing the flexible financial products that are needed to address the lending gaps that divide us.
Community Growth Fund is a lending and investment Fund that works to build economic equality in neighborhoods in 10 South Western Pennsylvania counties (Allegheny, Armstrong, Beaver, Butler, Fayette, Greene, Indiana, Lawrence, Washington, and Westmoreland) and all of West Virginia. CGF is committed to the success of our clients and supports them with technical assistance and innovative financial products.
Community Growth Fund is a Community Development Financial Institution (CDFI), certified by the U.S. Treasury.
The Mid-Tier Bankers Collaborative Council ("MBCC") and The Community Bankers Collaborative Council ("CBCC") were founded to increase communication between community group stakeholders and the financial institutions that invest in the Pittsburgh region. Stakeholders include community groups from throughout South Western Pennsylvania, as well as Community and National Banks.
CGF's financial products were influenced by these collaborative groups, learning from local leaders about the needs of the people that we serve.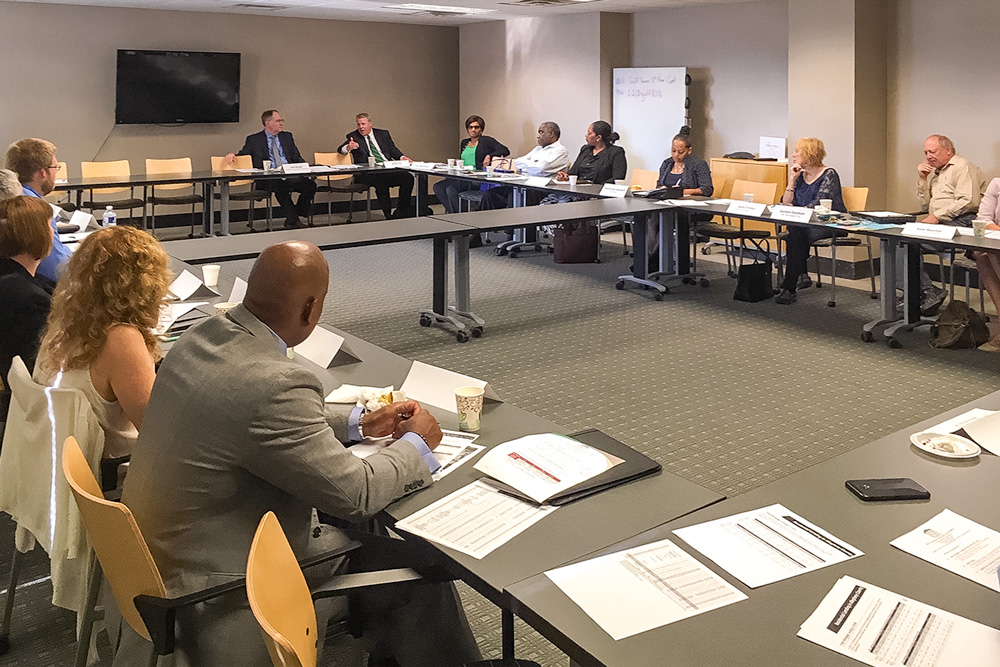 Community Growth Fund attending MBCC/CBCC meeting
"To rebuild economic equity in neighborhoods that have seen equity evaporate and to preserve and revitalize disadvantaged communities throughout South Western Pennsylvania and all of West Virginia through strategic investments, technical assistance, and organizational supportive services."